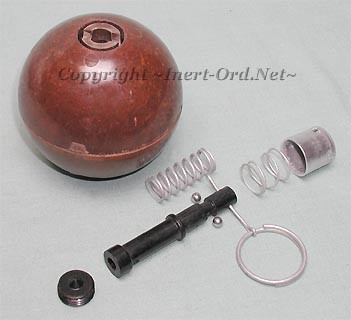 The fuze for the M25 is similar in function as the WWII Russian
Koveshnikov fuze. The spring loaded center slider tube is held in a cocked position by two locking balls. In turn they are held by a spring loaded arming cap.
The thrower put their thumb on the arming cap, pulled the pin and
threw the grenade. The arming spring pushes the cap off, freeing the balls allowing the slider tube to be forced down.
In this fuze, the busting charge is contained in the slider, with the primer exposed at the bottom. The threaded base plug functions as the firing pin.

There is a off center filling hole which uses the same plug.