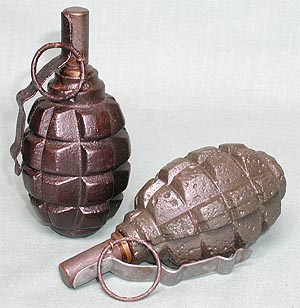 This is the F-1 Fugasnaya ("high explosive") fragmentation grenade made and used by the Russians during WWII.

It has the early Koveshnikov fuze, made of brass and steel. This fuze design was replaced by the UZRG type sometime around 1942.

The body style is slightly different that the modern F1 types, being more angular and exhibiting small notches in the neck and base. When these changes occurred is not clear and could possibly be just variations in manufacturing set-ups. Color varies from a very dark green-brown to medium olive.

The grenade to the right in the top photo shows extremely poor casting quality. Crude workmanship tended to be a hallmark of Russian weapons design of the period, but they were none the less effective.
---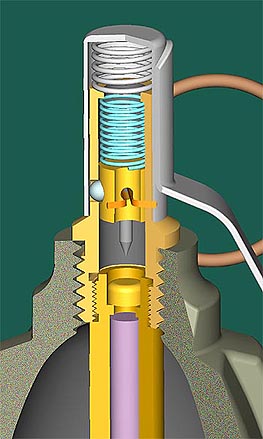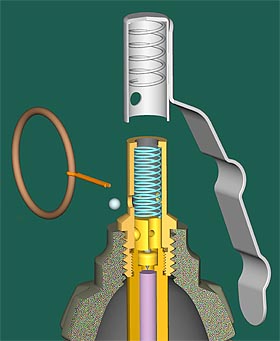 Sectional Views Copyright© 2002 Inert-Ord.net



The steel safety lever and fuze cap are a one piece unit, which is spring loaded and pops off when released.


Inside the brass fuze stem is a cocked striker under a second spring, held safe by a steel ball indented in the side. This ball is freed when the cap departs, releasing the striker. The stem has a hole in the top and the striker is grooved to vent gas from the burning delay, which is about 4 seconds.

---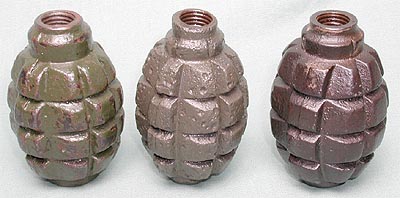 Three F-1 bodies, which I believe to be all WW2 vintage and with their original paint.
---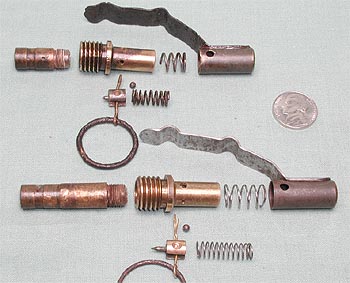 Here are two fuzes striped down.
Interesting to note that there are two distinctly different delay stems. I can find no references to the reasons. Drawings I have from Russian manuals show what appears to be the larger of the two.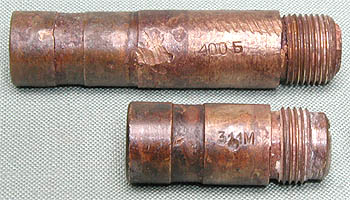 An enlarged view of the stems which have the only markings I can find on the fuzes.

The top reads "400B" and the lower "311M"

Better information about these



---