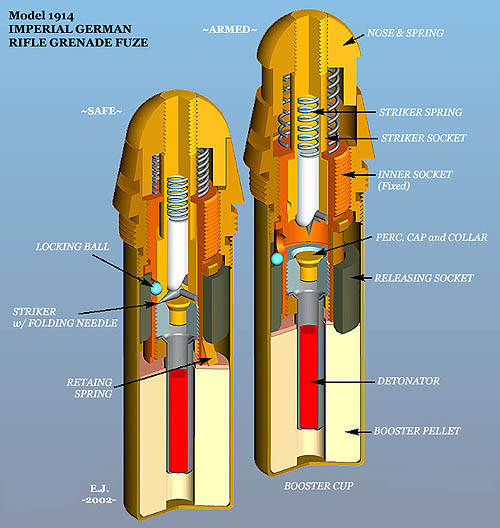 • Impact Fuze, with the entire mechanism enclosed and protected.
• Easy to Operate - remove shipping plug from grenade, insert fuze & fire.
• Range Control.
The unique "Ranging Disc" is used in one of three modes. Removed for maximum range, curved face forward for ½ range or as shown for ¼ range. The rifle was always placed at one angle for firing (typically 45 degrees), a useful feature in the confined space of the trenches.
The fuze utilizes an interesting safety feature. It consists of a releasing socket holding a locking ball in place which retains a striker with a folded firing pin (needle). Upon firing the socket is pushed down, overcoming a pair of bent flat retaining springs, releasing the ball which allows the nose/striker assembly to spring up (big spring), freeing the striker to push down (small spring) against the needle unfolding and locking it. It is now armed and functions as a simple impact fuze.
Sectional View Copyright© 2002 Inert-Ord.net

---