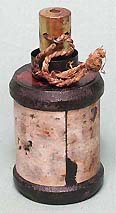 The fuze is a percussion delay, as with the 91 & 97 Types. It is operated by removing the safety pin and hitting the cap hard to start the delay.
Earlier Type 99's had a paper instruction label with graphics and text showing its use. The fuze on this one is dated May 1942.
Anyone have a picture of the complete label?