Note that the fuze body has been modified. The locking feature has changed. Now, it consists of an internal wire spring under the cap and a serrated friction ring located on top of the fuze body.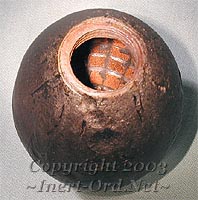 This last view shows the internal fragmentation matrix cast into the M38 grenade.
Grooved fragmentation patterns work best if they are made on the inside. It is interesting to note however, that the post war M50 type does not exhibit this feature, the inside surface being smooth.