The Mk.230 Hydrostatic Fuze was an improved fuze for depth bombs used in anti-submarine warfare and was developed circa 1943. It has a wind vane safety which required air travel before arming. This prevented detonation if submerged accidentally, which evidently was a problem with earlier designs.
The Mk. 230 was used in the 325lb and 350lb depth bombs, and also used in 500lb, 1000lb and 2000lb general purpose bombs.
It was made in different modifications, this one is marked "MOD 4" and dated 1944.

The fuze is made of steel, brass and aluminum, measures about 14 inches long and weighs over 12lbs. Dud fuzes had a reputation of being very dangerous to disarm.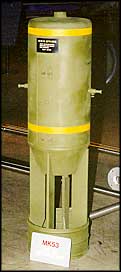 Mk.53 325lb Depth Bomb
Overall Length - 54.6" (Including nose fuze)
Diameter - 13.5"
Material - 1/16" Sheet Steel w/ TNT Filler
Fuzes - Mk. 103 Impact Nose Fuze / Mk. 230 Hydrostatic Tail Fuze.