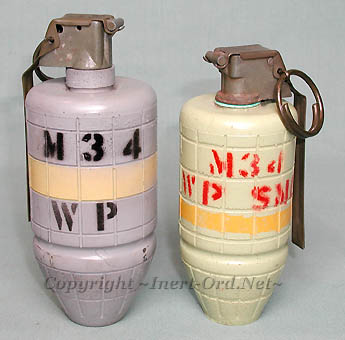 The M34 WP was developed as an improvement over the M15.
The body is slightly lighter with a grooved surface which burst more readily. While the amount of WP filler was about the same, the effective radius increased about 25%.

The body was provided with a grooved and tapered base, which allowed it to be mounted on a rifle grenade adapter. Since the bursting radius was now greater than the typical throwing distance, use as a rifle grenade was necessary when there was no available cover.

The color code is found in two styles. Earlier gray body with yellow markings, and later (NATO) light green with yellow & Red.