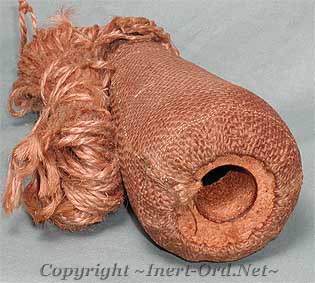 Interesting that this example does not match the dimensional data for any of the above mentioned types. It is longer, narrower at the base and has some internal differences in the base/cone geometry. Also the tail and covering are the same hemp material, where on the A,B,C types it seems the body covering was cloth.

This grenade was recoverd in the Philippines, most likely shortly after the end of the war (EOD).

The IJA field arsenal at Manila produced some AT weapons such as the Lunge AT Mine, and this is most likely a local-made version produced in the occupied territory.

This grenade was expertly inerted. The cloth casing was removed, explosives separated from the cone and replaced by a sculpted wood block, then reassembled. Due to the cloth material, the difficulty in inerting it, etc., this an exceedingly rare item to find. The only surviving example I am aware of.