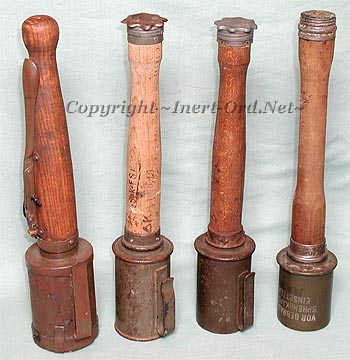 (Left to Right)
Model 1915 impact grenade; Two variations of the Model 1917; The classic WWII era Mod.24 (Dated 1939)
(Note: The M1915 at left is a restored relic - Repainted.)


Improvements in explosives allowed the size and weight of the warhead to be reduced, resulting in a less cumbersome design but maintaining the same blast effect.

The massive Model 1915 lever style impact grenade (far left) was heavy by design however. The fuze mechanism is similar to the one found in the Lanz mortar. It is a "allways" type which functions no matter what the orientation at impact, but was most sensitive when the grenade dropped head first. The massive sheet steel can was supposed to help insure that result, but it wasn't very successful. This lead to a design modification using a heavier cast iron Kugel body instead, but evidently this wasn't much of an improvement and the grenade type was withdrawn from service.