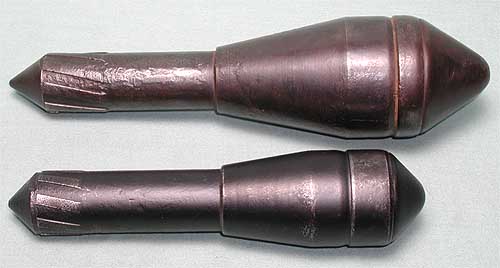 The German Wehrmacht seemed content with not developing any larger HEAT grenades for their Schiessbecher, but the SS had other ideas. Having difficulties obtaining the weapons they wanted, the SS went outside normal procurement channels to obtain what they desired, something they continued to do throughout the war.
(The British discovered the advantages of outside procurement as well, creating their famous department M.D.1, also known as "Churchill's Toyshop"...but that is another story.)
The reverse taper Grosse Gewehrpanzergranate was not a effective geometry and and there were simplifications that could be made as well. The result was the Gewehrpanzergranate 46 and later the still larger Gewehrpanzergranate 61. These were different grenades entirely, from a simplified single piece drawn sheet metal body and shaft construction to a new base fuze design.
The Gewehrpanzergranate 46's warhead diameter was 4.6cm with an overall length of 93mm and carried a shaped charge of 150g. It had an armor penetration of 90mm.
A further improvement was the Gewehrpanzergranate 61 which increased penetration performance to 125mm. Its warhead diameter was enlarged to 61mm and carried a shaped charge of 200g.
Both types, Gew.Pz.Gr.46 and Gew.Pz.Gr.61, were produced in very small numbers towards the end of the war.

---