Short History
Arguably the most recognized German infantry weapon of the 20th Century.

The German stick grenade design began in 1915, improving on the Pétards Raquettes concept which was a rudimentary early war improvised stick grenade.

The basic design consisted of a heavy sheet metal can, filled with explosive, screwed to a wood handle. About 10 different variations were developed during WWI, each exploring different fuze mechanisms, explosive fillers and fabrication techniques. Fuzes were first friction delay, then impact, returning again to friction delay. Designs evolved, becoming lighter and simpler to manufacture.

The stick grenade is easily held and thrown. It's shape also prevents rolling on the ground, a distinct advantage on sloped terrain. It also can be easily bundled together with other stick grenades making a larger weapon. On the negative side, it is bulky and cannot be thrown as far as an "egg" shaped hand grenade.

By 1917 the final form was established, consisting of a large sheet metal warhead with a belt hook, screwed to a hollow wood handle containing a friction fuze with a pull lanyard.
The detonator was inserted in the field. Instructions were printed on the grenade reminding the user to do so: Vor Gebrauch Sprengkapsel Einsetzen "BEFORE USING, INSERT A DETONATOR"

After the war the design was slightly modified, utilizing a smaller head and the belt clip was removed, since it was just as easy to tuck the handle under a belt or pack webbing.
The classic WWII "Potato Masher" was born.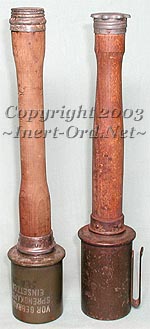 WWII - WWI
Mod.24 - Mod.1917